13-06-2023 – In a few weeks we will enter the Soundlodge studio to record our part of the upcoming split with Burning. Be prepared for some true speed metal hymns! There's no escape 'cause THE DEMON IS BACK!!!!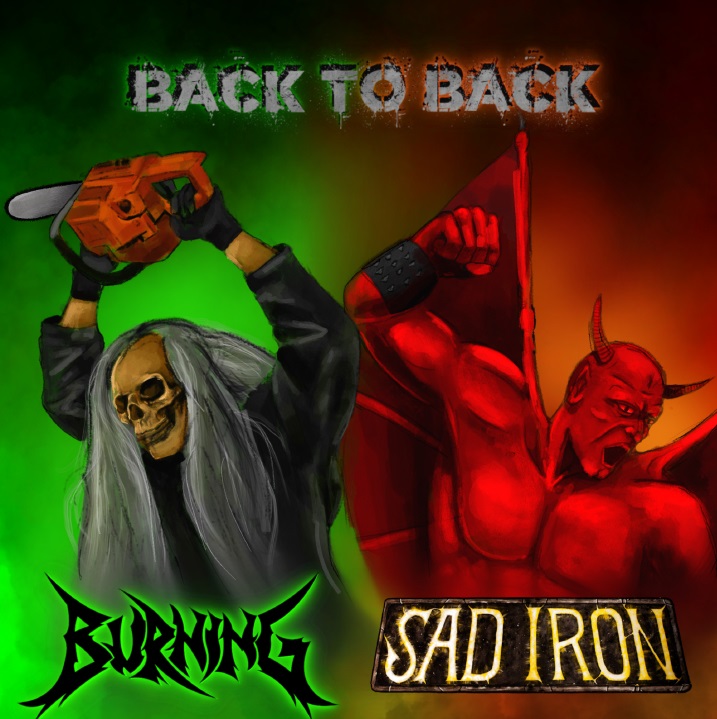 02-04-2023 – Working hard on new songs for the upcomming album. More news about this one coming soon!. Next to that we are preparing for the Dutch Heavy Metal Fest in Oberhausen Germany, where we will play together with some great dutch bands. You don't want to miss this one!!!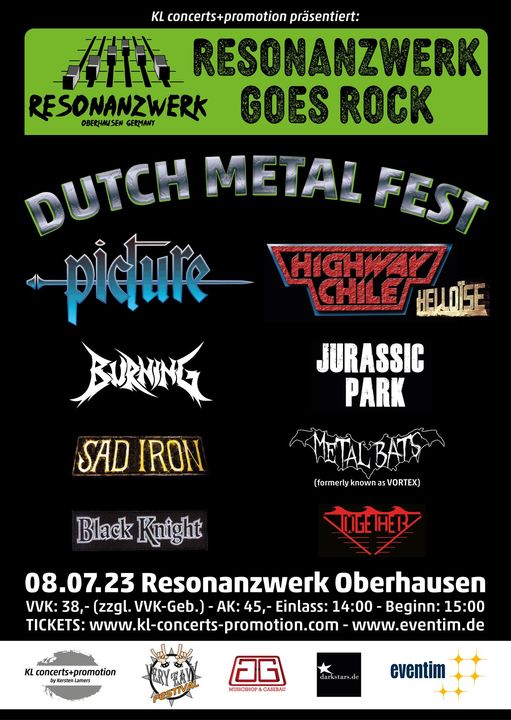 28-11-2022 – After some amazing shows in Hamburg, Diest and at the amazing Holland Heavy festival in Drachten we are preparing for the last show of this year. On saturday 17th of december we will hit the stage with the ancient rockers of Jurassic Park in Ommen.
For those who have not been able to come to our show or just can't get enough of it: check the full show, shot at the Bambi Galore in Hamburg!
28-05-2022 – Again we have some new confirmed shows for this year. We will join Jurassic Park and Burning on October 8 in Helmond where the warwinds will blow. Only to go straight to Hell on November 19.

12-05-2022 – Today we had a nice chat with Razende Roeland on his radio show. Check the episode here to learn some more about Sad Iron.

21-03-2022 – Some new shows confirmed for this year. On saturday april 23th we play at Duycker in Hoofddorp and october 22th we will bring a demons night to Bambi Galore in Hamburg, Germany. But first up is the Metalyard fest on april 16. Be there!
16-02-2022 – The days of doom are over and we are ready to strike. Our first show of 2022 will be in De Walrus (Groningen) together with Burning and Metalbats on march 18. Be there, you will enjoy it!
On the 16th of april we will return to the legendary town of Zwaagwesteinde to bring total damnation to the Metalyard festival.

14-07-2021 – Hell Yeah!!!! Finally we are bound to hit the stage again. Our first show in 2021 is a banger. Put your leather, chains and boots on and join us july 24th at Headbangers open Air! More upcoming shows in our live-section.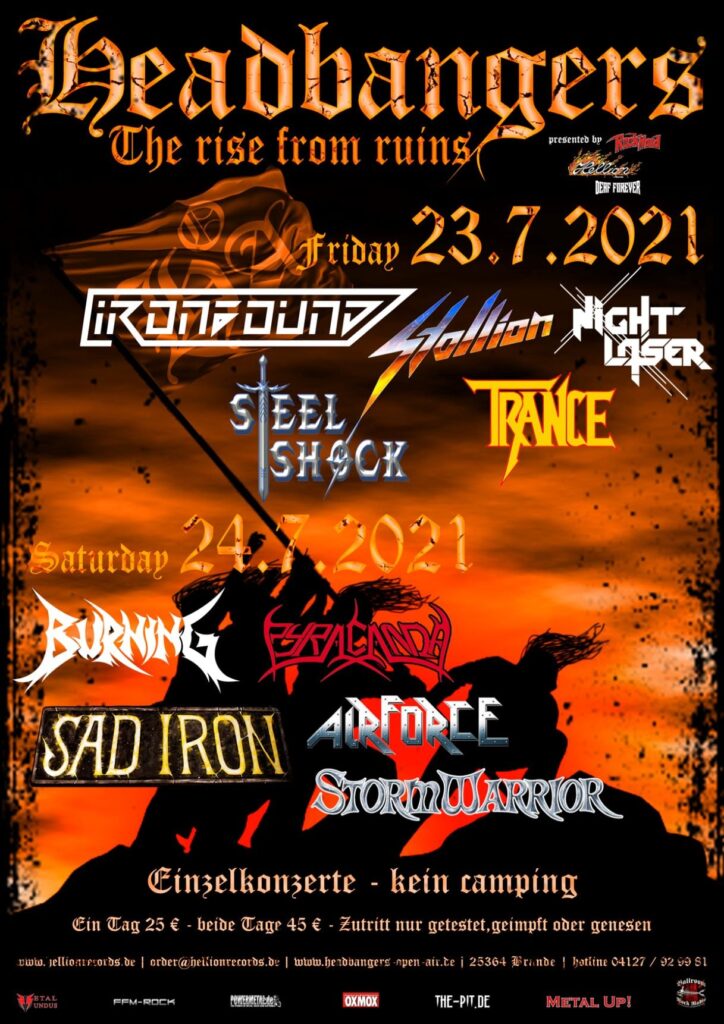 29-10-2020 – After a great start of 2020 things changed rapidly. Due to the COVID-stuff going on, all gigs has been postponed. With all this bad news we thought it's time for something positive… We are excited to tell you we are working hard on some new songs. No disco, funk or ska this time. We promise you that as soon as we are able to hit the stage again you can bang your head on them as if you're obsessed!
16-02-2020 – After a great start of 2020 with shows in Ommen, Hoorn and Eindhoven we have 2 new confirmed dates. First we are going to raise hell in Heerenveen where we will play the Frisian Spring Fest at the Musykfabryk on the 13th of march. Then on saturday the 15th of august we play to kill all people at Festival 't Zeeltje in Deest. Stay tuned for some cool news about the show on june 5th in Groningen. O….. you will enjoy this. You'll be amazed!
28-12-2019 – Some new shows are confirmed for 2020. On january 25th we will play in Calluna Ommen together with Burning and Killer and on june 5th we will play Lola in Groningen.
Due to the passing away of Vortex guitarist Martje Brongers, Vortex is not able to play at the shows in Hoorn and Eindhoven. In Hoorn their spot will be filled by Rose Tattoo tribute band Nice Boys. In Eindhoven we will hit the stage together with Overruled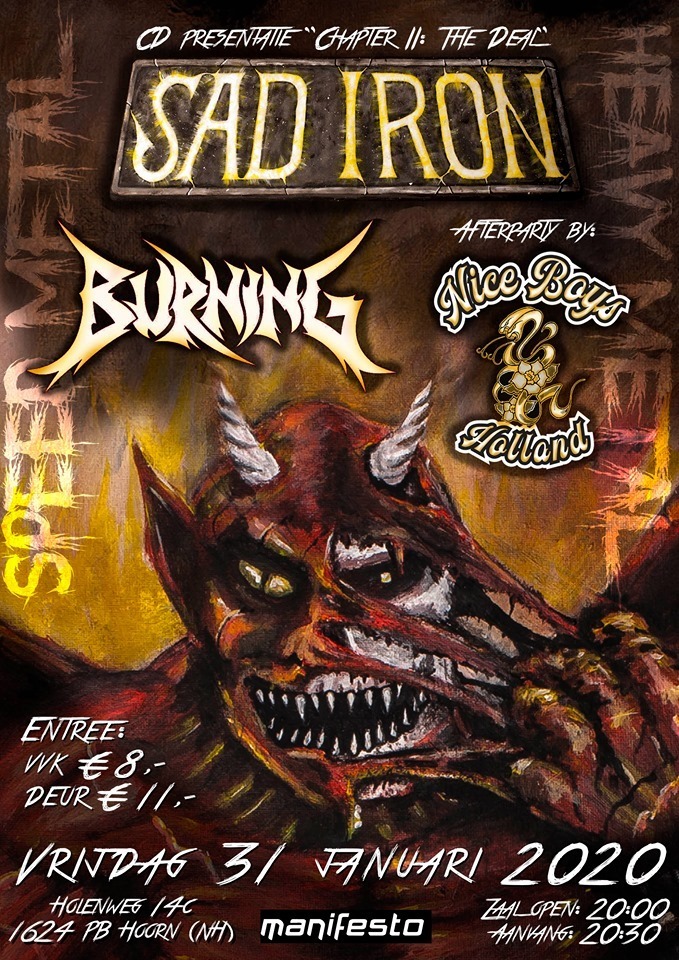 04-11-2019 – New dates confirmed! On friday the 31th of january we will celebrate the release of Chapter II: The deail and our 40 year anniversary at Manifesto in Hoorn. We will hit the stage together with our friends from Burning and Vortex. You can get your tickets here.
14-07-2019 – On february 8th we will play at The Jack in Eindhoven together with Vortex
14-07-2019 – Chapter II: The Deal is now available on CD an LP at Uptown Records. Order your copy now.
23-06-2019 – Last year brought us some changes again on the personal level. Early this year we parted ways with our singer/guitarist Marc. But now we are back on track and we are proud to introduce our new singer Marcel Paardekooper! Check how we play to kill at our upcomming shows!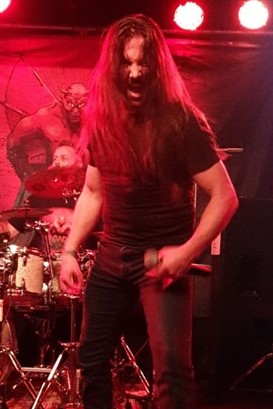 18-06-2019 – The Vinyl version of our new album Chapter II: The Deal is avalable. Click here for more information.
16-06-2019 – Our show in Wognum at 12-10-2019 is rescheduled. The new date is 28-09-2019 and we will hit the stage together with Ear Danger and Burning. Be there!
20-05-2019 – The wait is over, our new website is online. But more important, our new album Chapter II – The Deal is on it's way to Holland! Soon available at our shows and through Wormholedeath Records.
19-04-2019 – Out now, our new album Chapter II – The Deal on Spotify, Apple Music and more.
06-04-2019 – Our new album Chapter II – The Deal is now available for all you heavy metal maniacs in South America at Hellion Records!